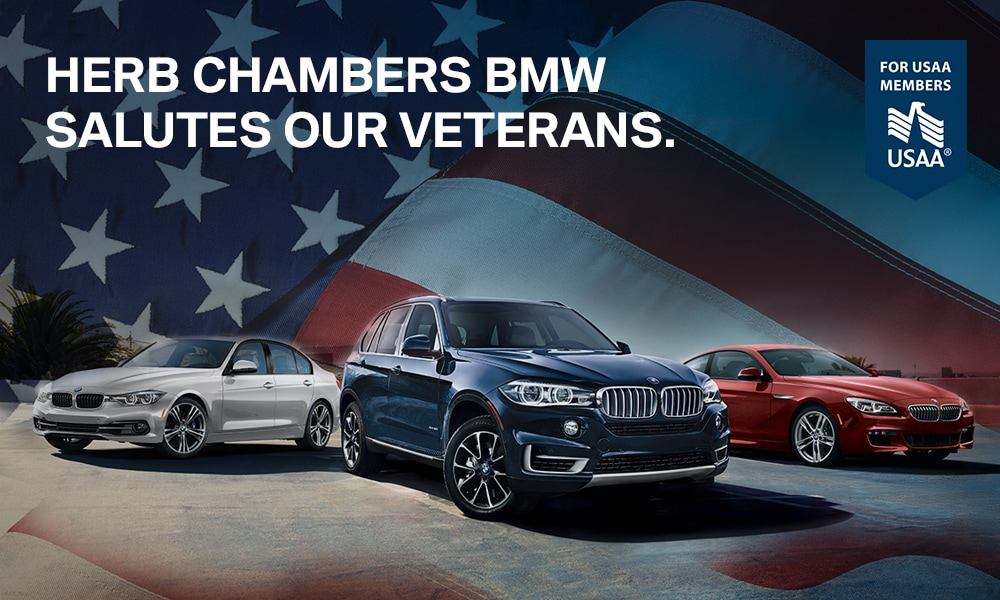 Effective through February 1, 2017.
Herb Chambers BMW is proud to announce our new USAA Program. This program demonstrates the continued support and appreciation of our Military personnel and their families stationed throughout the United States. All savings through this program are only to eligible members of USAA.

How Does It Work?

Herb Chambers BMW's USAA Program is an incentive program for all eligible USAA members that lease or purchase an eligible vehicle through Herb Chambers BMW. In order to take advantage of this incentive, they must be P&C (Property and Casualty) eligible. P&C eligible membership is a privilege earned by those who have served honorably and can be passed down to their children.

In addition to the cash incentive of up to $3500, the USAA member is eligible for any other incentives that are in place at the time of delivery unless otherwise stated. 
Pricing is based off of MSRP and incentives are applied upon completion of the negotiated price between Herb Chambers BMW and the USAA member.
Vehicles can either be delivered from our dealership or can be ordered depending upon availability. Pricing is based on a U.S. Delivery only. The Herb Chambers BMW USAA Program cannot be combined with the European Delivery Program or U.S. Military Stateside Delivery Program. Members are eligible for one vehicle per year per membership insurance ID#.

Program Eligibility

To qualify, the eligible USAA member must provide:
USAA Insurance Policy ID card or on exception basis, a USAA Confirmation Letter

Copy of Driver's License

BMW Group Domestic Military Verification Form

Signed Buyer's Order of Lease/Finance contract noting Domestic Military Incentive
For more information, contact us at (877) 796-8087 or simply fill out the form at the top-left of this page.